Collection:
British & Irish Meteorites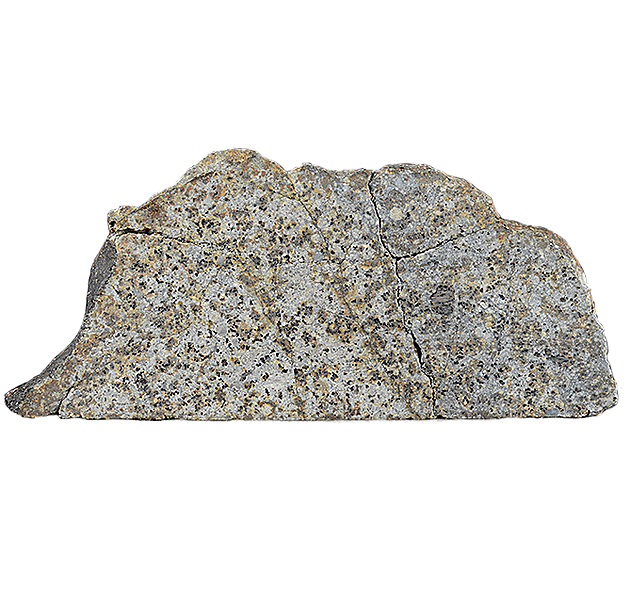 Click the microscope button to view a thin section for this sample.
Microscope
Click the microscope button to view a thin section for this sample.
Microscope
Click the object button to view an object rotation for this sample.
Object
Fact sheet
Following the sound of detonations the Limerick meteorite fell on September 10th 1813. A shower of stones were recovered (7.7 kg at Scagh, 29.5 kg at Brasky, 10.9 kg at Faha and several small stones near Adare. The total mass is 48.1 kg).
Brasky, Faha and Adare are near Limerick City, County Limerick, Ireland.
The Limerick meteorite is classified as an H5 (veined) chondritic meteorite meaning it has a high iron content (12-21%) and distinct chondrules (olivine and pyroxene mainly). Rotation 1 shows a few small chondrules and part of a larger chondrule. Rotation 2 is less distinct, but also shows small chondrules. Chondrules are thought to have formed from the condensation of hot gases in the solar system around 4.6 billion years ago. The reflected light view shows considerable metallic iron (silvery grey) and earlier crystallised troilite (golden yellow). The streaky marks visible on the hand specimen are saw cuts.
See also:
http://www.bimsociety.org/bim3.shtml

http://www.lpi.usra.edu/meteor/metbull.php?code=14652
Specimen: BM1955,115
Thin section: 
About this collection
This Collection consists of meteorites that have fallen in Great Britain and Ireland and which are now preserved in museum collections. We have also included samples of the two known meteorite impact deposits in the UK.
The Natural History Museum in London offers more information about meteorites and meteorite categories; there is more information about its meteorite collections here.
Sample details
Rock-forming mineral
olivine
pyroxene
troilite
metallic iron
We would like to thank the following for the use of this sample: