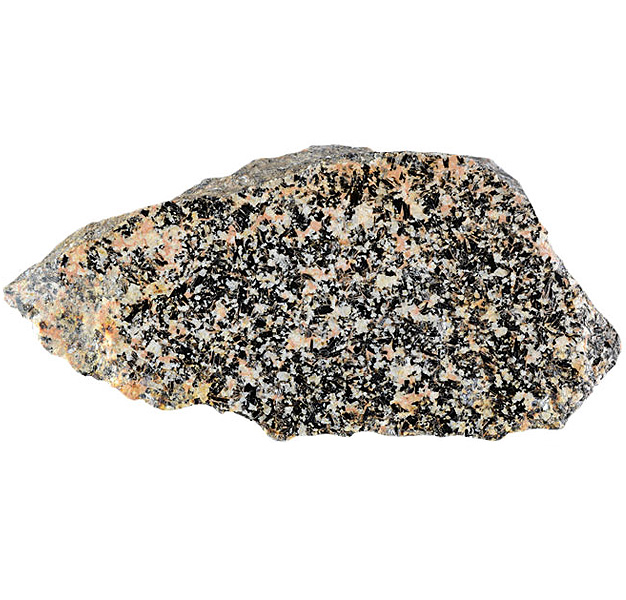 Click the microscope button to view a thin section for this sample.
Microscope
Click the microscope button to view a thin section for this sample.
Microscope
Fact sheet
This zinnwaldite-rich greisen comes from Gairnshiel at the centre of the Glen Gairn granite complex - a composite series of intrusions that were emplaced into Dalradian metasediments around 400 million years ago. The complex is located between the Cairngorm mountains (another granite complex) and the town of Ballater, in the Grampian Region of Scotland. The sample comes from close to the roof of a lithium-enriched pluton where magmatic fluids had ponded prior to consolidation crystallising the Li-rich mica zinnwaldite.
The thin section is dominated by quartz, plagioclase and the Li-rich mica zinnwaldite, and some muscovite. Zinnwaldite has lattice structure with similarlities to both muscovite and biotite. This thin section is also shown in reflected light since there are several ore minerals present as accessory minerals incuding molybdenite and pyrite.
About this collection
The United Kingdom Virtual Microscope (UKVM) collection consists of igneous, sedimentary and metamorphic rocks from around the UK.
It is intended as a teaching resource, helping to tell the story of the common rock types and how they form, and reflecting the history of the UK at the margins of the continent of Europe. The collection is a series of teaching sets, for example igneous rocks from the North Atlantic Igneous Province and SW England; high-temperature metamorphic rocks from Scotland and low-temperature metamorphic rocks from Wales; and sedimentary rocks, including English limestones and sandstones.
Sample details
Rock-forming mineral
quartz
zinnwaldite
muscovite
mica
plagioclase
feldspar
We would like to thank the following for the use of this sample: