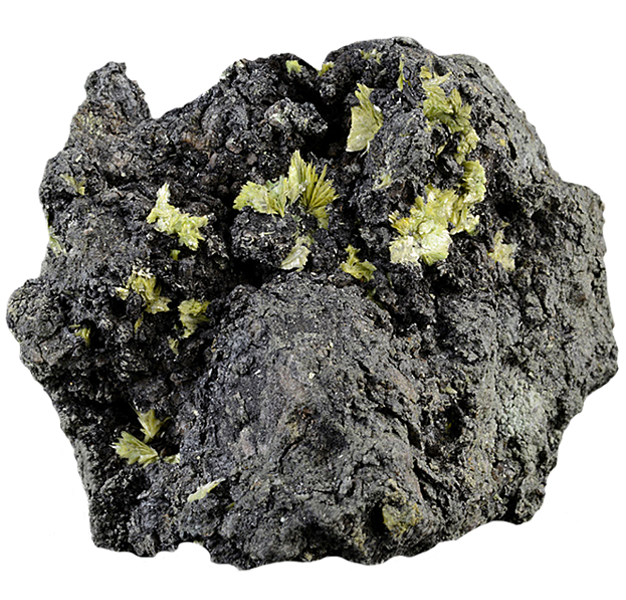 Click the microscope button to view a thin section for this sample.
Microscope
Click the object button to view an object rotation for this sample.
Object
Fact sheet
Bassetite is an uncommon iron uranium phosphate mineral. It is a so-called secondary mineral, formed by the near-surface weathering of uranium-bearing ore deposits.
This specimen shows aggregates of pale yellow lath-like crystals. It is part of a substantial collection of minerals put together by Redruth businessman James Wickett, which was acquired by the Royal Institution of Cornwall in 1922.
Bassetite was properly identified as an individual species in 1915 and named for the location where it was first described, Wheal Basset, near Illogan. The Basset group of mines (Wheal Basset, West Wheal Basset, North Wheal Basset and South Wheal Frances) were named for the influential land-owning Basset family on whose land the mines stood.
Chemical Formula: Fe2+(UO2)2(PO4)2•8H2O
Specimen no. TRURI: 1922.13.2193
Location: Wheal Basset
Grid Reference: SW 688 397
Mindat http://www.mindat.org/min-558.html
About this collection
This Collection focuses on Cornwall and West Devon's mineralogical and mining heritage.  The specimens it features are drawn from the collection of the Royal Institution of Cornwall (RIC) held at the Royal Cornwall Museum (RCM). 
This collaborative project involving the RCM, the Cornish Mining World Heritage Site and The Open University explores how access to the RIC's mineral collection and the stories it can tell can be widened using digital technology.  It includes radioactive minerals from Cornwall that would otherwise be inaccessible to the public for health and safety reasons.

Sample details
We would like to thank the following for the use of this sample: