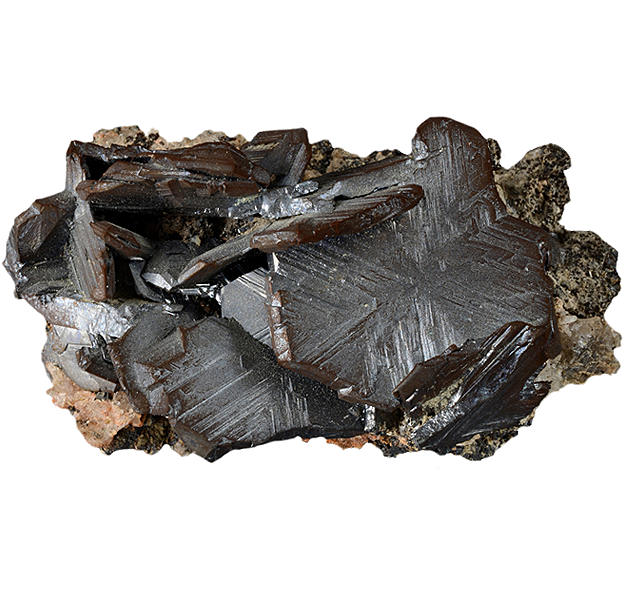 Click the microscope button to view a thin section for this sample.
Microscope
Click the object button to view an object rotation for this sample.
Object
Fact sheet
Chalcocite (copper sulphide) is an important ore mineral of copper.  It has more than double the copper content by weight % of chalcopyrite (the most common ore of copper) and is therefore a much more profitable ore mineral.  It was the main copper ore worked in the rich West Penwith mines of Geevor, Botallack and Levant. 
This specimen is from Geevor and was collected underground in 1964. It shows beautiful, almost hexagonal, tabular crystals intergrown with each other.
Geevor is better known as a tin mine, with underground workings that extended out under the sea. It was one of the last working mines in Cornwall, closing in 1990.
Chemical Formula: Cu2S
Specimen no. TRURI: 2005.42.1
Location: Geevor mine, Pendeen
Grid Reference: SW 375 345
Mindat http://www.mindat.org/min-962.html
About this collection
This Collection focuses on Cornwall and West Devon's mineralogical and mining heritage.  The specimens it features are drawn from the collection of the Royal Institution of Cornwall (RIC) held at the Royal Cornwall Museum (RCM). 
This collaborative project involving the RCM, the Cornish Mining World Heritage Site and The Open University explores how access to the RIC's mineral collection and the stories it can tell can be widened using digital technology.  It includes radioactive minerals from Cornwall that would otherwise be inaccessible to the public for health and safety reasons.

Sample details
We would like to thank the following for the use of this sample: