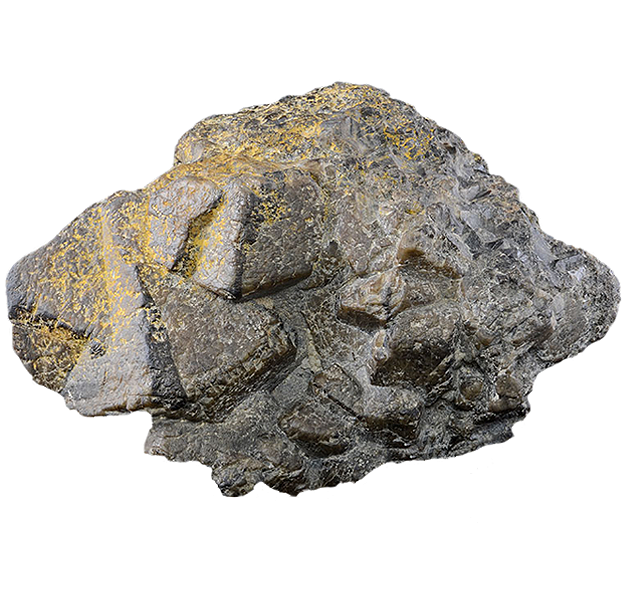 Click the microscope button to view a thin section for this sample.
Microscope
Click the object button to view an object rotation for this sample.
Object
Fact sheet
Deposits of cassiterite (tin oxide) are found in other parts of the world apart from Cornwall.  This sizeable boulder of water-worn cassiterite was brought to Cornwall from Malaysia in 1910 by Redruth businessman James Wickett.
In 1891 Wickett attended a local lecture on the tin deposits of Malaysia given by a Cornishman who was employed as a mine inspector there. He was quick to spot an investment opportunity and persuaded ten investors in Cornish mines to fund a new mining venture in the under-developed mines of Malaysia. The Gopeng Tin Mining Co. was registered at the Redruth Mining Exchange in 1891, the first of several Cornish-funded Malaysian tin-mining companies. The tin deposits in Malaysia were alluvial, that is contained within river sediments. They required very different mining techniques from those used in Cornwall. Nevertheless, Cornish money, contacts and engineering knowledge were very much in demand in this new tin-mining frontier. In the years to come, cheaply produced tin from Malaysia would contribute significantly to the continuing demise of tin mining in Cornwall.
Chemical Formula: SnO2
Specimen no. TRURI: 1903.1.851
Location: Kinta, Malaysia
Mindat http://www.mindat.org/min-917.html
About this collection
This Collection focuses on Cornwall and West Devon's mineralogical and mining heritage.  The specimens it features are drawn from the collection of the Royal Institution of Cornwall (RIC) held at the Royal Cornwall Museum (RCM). 
This collaborative project involving the RCM, the Cornish Mining World Heritage Site and The Open University explores how access to the RIC's mineral collection and the stories it can tell can be widened using digital technology.  It includes radioactive minerals from Cornwall that would otherwise be inaccessible to the public for health and safety reasons.

Sample details
We would like to thank the following for the use of this sample: