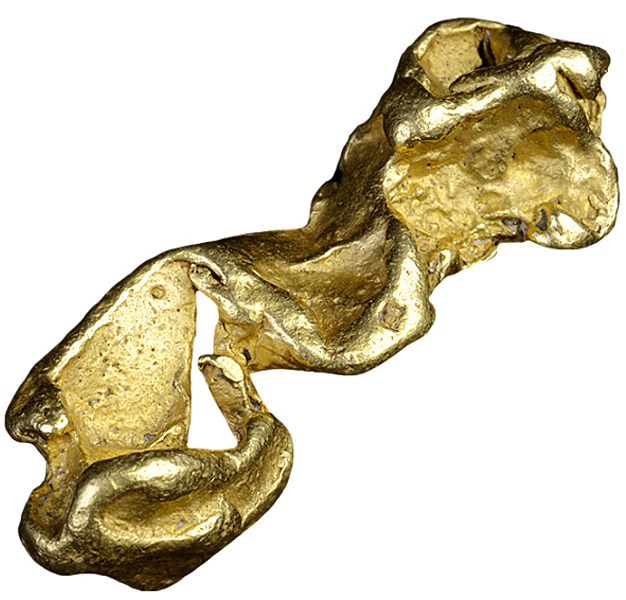 Click the microscope button to view a thin section for this sample.
Microscope
Click the object button to view an object rotation for this sample.
Object
Fact sheet
Gold is a dense, unreactive metal, which does not naturally form compounds with many other elements. As a result, it is usually found in its elemental or native state.  It occurs in veins in rocks or as weathered-out grains that have become concentrated in river-based sediments called 'placers', that are rich in heavy minerals. Gold has been recorded from many localities within Cornwall. Most are placer deposits that have been worked by tin-streamers.
This is the largest nugget of Cornish gold yet found.  It was reported in the Royal Cornwall Gazette, February 1808:
"A beautiful specimen of virgin gold, lately found in a tin stream-work in Cornwall, is now in the possession of Mr Wills, silver-smith of Truro.  It is about the length and thickness of a lady's finger, though less regularly formed, and weighs above two ounces.  Its intrinsic value is equal to nine guineas; but, as a specimen, it is invaluable…"
Shortly afterwards the newspaper reported that the specimen had been added to the beautiful and scientific collection of Philip Rashleigh.  It is recorded there as gold specimen number 112, and is the last gold specimen listed in his catalogue:
"Native Gold found in Carnon Stream work in Cornwall..."
Chemical Formula: Au
Specimen no. TRURI: 1903.1.3178
Location: Carnon Stream work
Mindat http://www.mindat.org/min-1720.html
About this collection
This Collection focuses on Cornwall and West Devon's mineralogical and mining heritage.  The specimens it features are drawn from the collection of the Royal Institution of Cornwall (RIC) held at the Royal Cornwall Museum (RCM). 
This collaborative project involving the RCM, the Cornish Mining World Heritage Site and The Open University explores how access to the RIC's mineral collection and the stories it can tell can be widened using digital technology.  It includes radioactive minerals from Cornwall that would otherwise be inaccessible to the public for health and safety reasons.

Sample details
We would like to thank the following for the use of this sample: