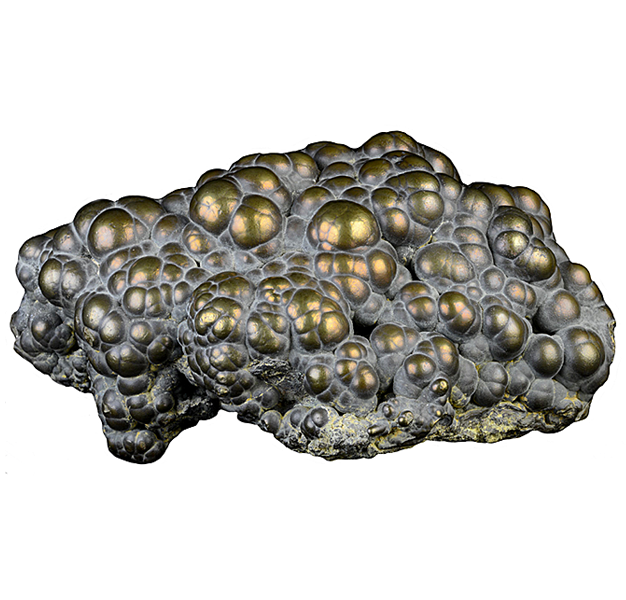 Click the microscope button to view a thin section for this sample.
Microscope
Click the object button to view an object rotation for this sample.
Object
Fact sheet
Copper was the second most important metal sourced in Cornwall and was found in a variety of ore minerals. The most common of these was chalcopyrite (copper iron sulphide). Although abundant in Cornwall and the main ore of copper worldwide, chalcopyrite yields relatively low amounts of copper compared to some of the other, less common, copper ore minerals. In Cornwall, chalcopyrite was found in veins associated with granite. 
This specimen of chalcopyrite has a distinctive form or growth habit.  The technical name for this habit is botryoidal, which comes from the Greek meaning bunch of grapes. Locally, chalcopyrite in this form is called blister copper. 
The specimen is from Dolcoath, a mine on the northern slopes of the Carn Brea granite ridge.
Chemical Formula: CuFeS2
Specimen no. TRURI: 801-976
Location: Dolcoath mine
Grid Reference: SW 662 405
Mindat http://www.mindat.org/min-955.html
About this collection
This Collection focuses on Cornwall and West Devon's mineralogical and mining heritage.  The specimens it features are drawn from the collection of the Royal Institution of Cornwall (RIC) held at the Royal Cornwall Museum (RCM). 
This collaborative project involving the RCM, the Cornish Mining World Heritage Site and The Open University explores how access to the RIC's mineral collection and the stories it can tell can be widened using digital technology.  It includes radioactive minerals from Cornwall that would otherwise be inaccessible to the public for health and safety reasons.

Sample details
We would like to thank the following for the use of this sample: