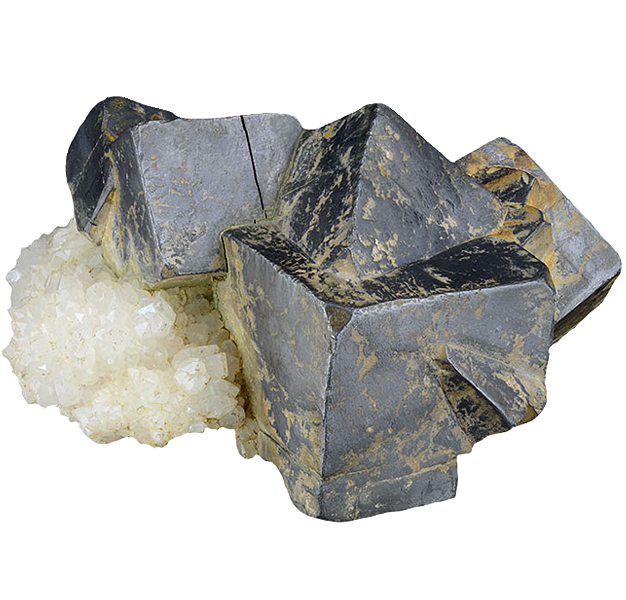 Click the microscope button to view a thin section for this sample.
Microscope
Click the object button to view an object rotation for this sample.
Object
Fact sheet
Galena (lead sulphide) is the principal ore of the heavy metal lead. This specimen shows intergrown cube-shaped crystals of dull grey galena and comes from West Chiverton Mine near Perranzabuloe.
In Cornwall galena occurs in veins with sphalerite (zinc sulphide) and other sulphide minerals. Five mines dominated lead production in Cornwall during the mid to late 19th century, but the most productive was West Chiverton.
Cornish galena frequently contained a certain amount of silver. Typically the lead ores from West Chiverton yielded 75% lead metal and around 0.09% silver. The very high value of silver compared with that of lead, meant that its sale made a disproportionately large contribution to the overall profitability of the mine.
Chemical Formula: PbS
Specimen no. TRURI 1906.43.2b
Location: West Chiverton
Grid Reference: SW 793 508
Mindat http://www.mindat.org/min-1641.html
About this collection
This Collection focuses on Cornwall and West Devon's mineralogical and mining heritage.  The specimens it features are drawn from the collection of the Royal Institution of Cornwall (RIC) held at the Royal Cornwall Museum (RCM). 
This collaborative project involving the RCM, the Cornish Mining World Heritage Site and The Open University explores how access to the RIC's mineral collection and the stories it can tell can be widened using digital technology.  It includes radioactive minerals from Cornwall that would otherwise be inaccessible to the public for health and safety reasons.

Sample details
We would like to thank the following for the use of this sample: