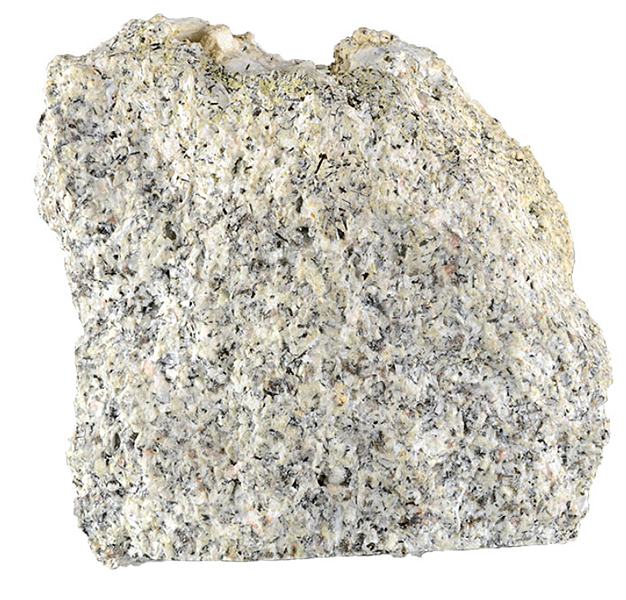 Click the microscope button to view a thin section for this sample.
Microscope
Click the microscope button to view a thin section for this sample.
Microscope
Fact sheet
This nepheline syenite is part of a dolerite intrusion at Cnoc Rhaonastil, Isle of Islay, Scotland that formed in the Paleogene period as part of the North Atlantic volcanic province. The rock is unusual in that the magma evolved from alkali olivine-dolerite by crystal fractionation at low pressure. The intrusion is an example of an upper-crustal magma chamber, in which the alkali olivine-basalt magma crystallised in situ. Research has shown that this represents the distended head of a large dyke in which a single pulse of magma was emplaced and subsequently crystallised without significant interaction with the local country rock.
The thin section contains green-coloured aegirine pyroxene with characteristic patchy colour variations, biotite mica, and large grains of nepheline that have undergone alteration and exsolution to plagioclase. Isotropic analcime completes the main assemblage. Patches of zeolite are also present, exhibiting characteristic radial growth patterns (rotation 1).
About this collection
The Ilimaussaq alkaline complex is the type locality for agpaitic nepheline syenites and represents an enormous concentration of rare elements, notably Li, Be, Nb, Zr, REE, Y, Th and U. Around 220 mineral species have been identified. We can't identify all the minerals present in these samples. Email us at virtual-microscope@open.ac.uk if you can help.
Note we have recently expanded the collection to include other syenite complexes worldwide.
See also Alex Strekeisen's great website for more information on syenite complexes.
Sample details
Rock-forming mineral
aegirine
biotite
nepheline
orthoclase
analcime
We would like to thank the following for the use of this sample: