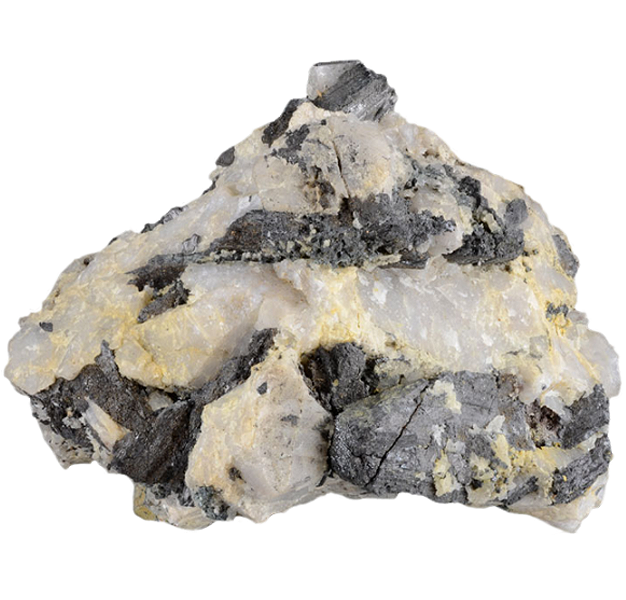 Click the microscope button to view a thin section for this sample.
Microscope
Click the object button to view an object rotation for this sample.
Object
Fact sheet
Wolframite contains iron, manganese and tungsten and is the main ore mineral of the metal tungsten.
It is found at many localities within Cornwall, in veins alongside cassiterite and closely associated with granites. Until the mid-19th century, wolframite was treated just as another impurity mineral or waste product. When the useful properties of tungsten metal (its hardness and density) were fully appreciated, it was found to be a valuable additive to alloys and steel. Demand rose quickly, particularly during the First World War, reflecting its use in the manufacture of armaments. Tungsten rapidly became a high-value by-product at many tin mines. East Pool was one of the four main producers of tungsten and pioneered production during the 1860s & 70s.
This specimen of wolframite and quartz is one of three specimens from Rogers lode at East Pool & Agar, gifted to the Royal Institution of Cornwall in 1916 by Jabez F Maynard, who was Secretary at the mine during the war years.
Chemical Formula: (Fe2+,Mn)WO4
Specimen no. TRURI: 1916.20.2
Location: East Pool mine
Grid Reference: SW 674 415
Mindat http://www.mindat.org/min-4305.html
About this collection
This Collection focuses on Cornwall and West Devon's mineralogical and mining heritage.  The specimens it features are drawn from the collection of the Royal Institution of Cornwall (RIC) held at the Royal Cornwall Museum (RCM). 
This collaborative project involving the RCM, the Cornish Mining World Heritage Site and The Open University explores how access to the RIC's mineral collection and the stories it can tell can be widened using digital technology.  It includes radioactive minerals from Cornwall that would otherwise be inaccessible to the public for health and safety reasons.

Sample details
We would like to thank the following for the use of this sample: