14053 Aluminium-rich basalt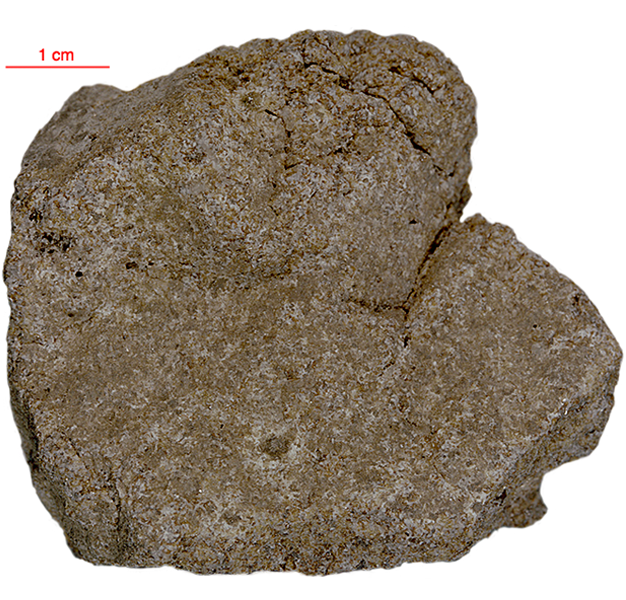 Click the microscope button to view a thin section for this sample.
Microscope
Click the microscope button to view a thin section for this sample.
Microscope
Fact sheet
14053 Aluminium-rich basalt
14053 is a lunar Mare basalt that has been dated at 3.92 billion years. This specimen is flat with one side freshly broken and the other side rounded and pitted by microcraters. Breccia material was found attached to the flat side, indicating that this basalt was probably a clast in the larger boulder (breccia).
The thin section illustrates the ophitic basalt texture with large, zoned, pyroxene grains surrounding laths of plagioclase. The rock is relatively coarse-grained and some researchers have described it as a medium-grained microgabbro. The rock has strongly-zoned pyroxene grains up to 5 millimetres in length enclosing smaller subhedral laths of plagioclase. A small amount of olivine (both as sub-rounded phenocrysts and fayalite) is located in the mesostasis, which also contains chrome-spinel, ilmenite, cristobalite, troilite, phosphates, K-feldspar and K-Ba-rich residual glass.
About this collection
The Apollo 14 landing site was in a region formed by impact-basin debris.
Most of the 42 kilograms of rocks and soil collected on Apollo 14 are breccias (rocks that are composed of fragments of other, older rocks). In some cases, the rock fragments that form a breccia are themselves breccias. Such rocks obviously have experienced complex histories with multiple generations of impact events. Some breccias were heated enough that some of the material in the rock was melted. 
Apollo 14 was launched on 31 January 1971.