Collection:
British & Irish Meteorites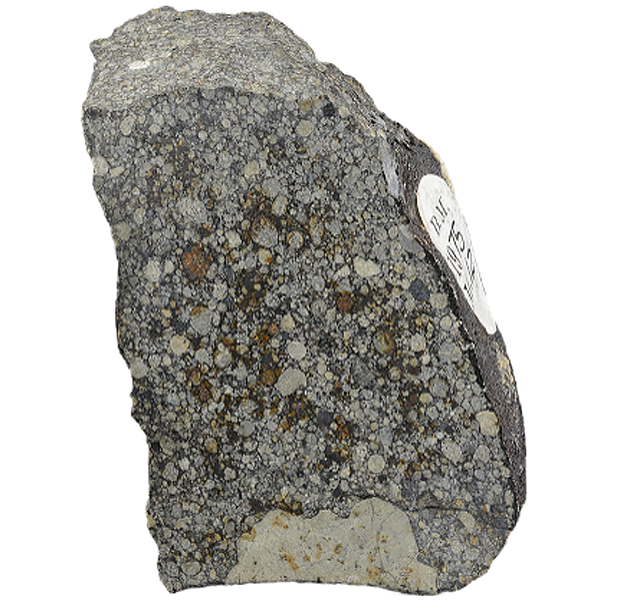 Click the microscope button to view a thin section for this sample.
Microscope
Click the object button to view an object rotation for this sample.
Object
Fact sheet
The Bovedy meteorite fell as two stones on April 25th 1969. The smaller fragment (513 g) crashed through an asbestos roof in Springfield and the larger fragment (4.95 kg) was recovered from a farm at Bovedy over 60 km away. Bovedy is in Craigavon, close to the town of Portadown, Northern Ireland.
The Bovedy meteorite is classified as an L3 chondritic meteorite meaning it has a low iron content (5-10%) and distinct chondrules (olivine and pyroxene mainly). Chondrules are thought to have formed from the condensation of hot gases in the solar system around 4.6 billion years ago. These chondrules are clearly visible in the hand specimen.
See also:
http://www.bimsociety.org/bim2.shtml

http://www.lpi.usra.edu/meteor/metbull.php?code=5121
Specimen: BM1975,M12
About this collection
This Collection consists of meteorites that have fallen in Great Britain and Ireland and which are now preserved in museum collections. We have also included samples of the two known meteorite impact deposits in the UK.
The Natural History Museum in London offers more information about meteorites and meteorite categories; there is more information about its meteorite collections here.
Sample details
We would like to thank the following for the use of this sample: