Collection:
British & Irish Meteorites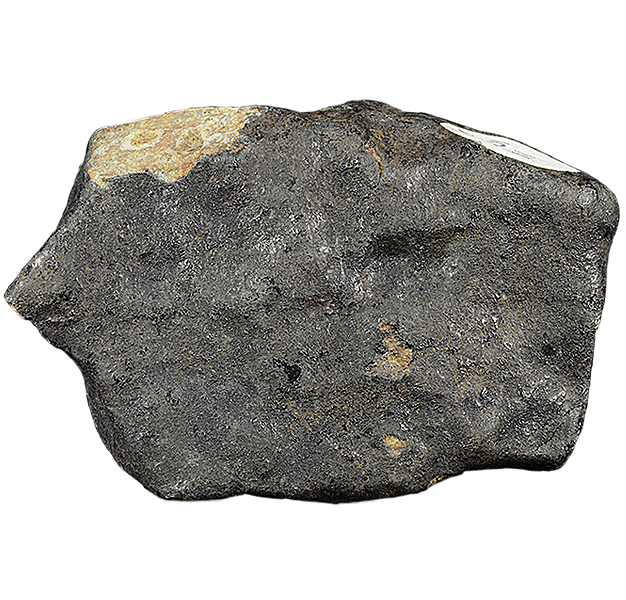 Click the microscope button to view a thin section for this sample.
Microscope
Click the object button to view an object rotation for this sample.
Object
Fact sheet
The Leighlinbridge meteorite fell on November 28th 1999 after observers witnessed a bright fireball accompanied by detonations. Four stones were recovered (84.7 g, 73.3 g, 65.6 g and 47.9 g - total 271.4 g).
Leighlinbridge is near Carlow, Wicklow Mountains, County Carlow, Ireland.
The Leighlinbridge meteorite is classified as an L6 ordinary chondrite, meaning it has a low iron content (5-10%) and indistinct chondrules (round features) that have in many places have been metamorphosed under conditions to homogenise the pre-existing minerals (olivine and pyroxene mainly). Sadly, because we do not have a thin section of this meteorite all that can really be seen is a black fusion crust covering almost the entire surface of the 73.3 g hand specimen.
See also:
http://www.bimsociety.org/bim3.shtml

http://www.lpi.usra.edu/meteor/metbull.php?code=12759
Specimen: BM2001,M.1
About this collection
This Collection consists of meteorites that have fallen in Great Britain and Ireland and which are now preserved in museum collections. We have also included samples of the two known meteorite impact deposits in the UK.
The Natural History Museum in London offers more information about meteorites and meteorite categories; there is more information about its meteorite collections here.
Sample details
We would like to thank the following for the use of this sample: