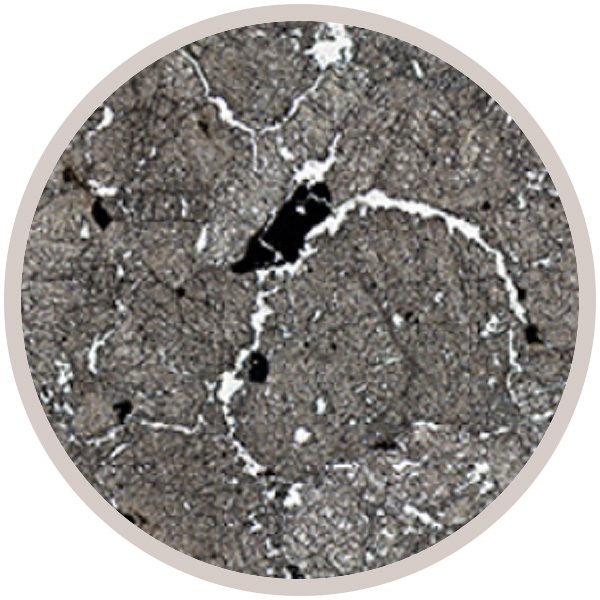 Click the microscope button to view a thin section for this sample.
Microscope
Click the microscope button to view a thin section for this sample.
Microscope
Fact sheet
The Chassigny meteorite fell to Earth in a fireball on October 3rd 1815. Detonations were heard near the village of Chassigny in the province of Haute-Marne, France (Dijon is the nearest city). It is one of the first meteorites to be recognised as a genuine rock from space and to date the only Martian meteorite that has been found in Europe. Only one 4 kg stone was found despite an extensive search.
The meteorite is a dunite mainly consisting of olivine (92%). Minor minerals in the Chassigny meteorite are pyroxene, plagioclase feldspar and chromite. Accessory species include alkali feldspar, biotite, kaersutite, chlorapatite, marcasite, pentlandite, troilite, ilmenite, rutile, baddeleyite and wadsleyite. Melt inclusions are also present.
Isotopic techniques have produced a range of ages for the sample - 1.39±0.17 Ga (K-Ar), 1.2-1.4 Ga (Ar-Ar), 1.362±0.062 Ga (Sm-Nd) and 1.126±0.012 Ga (Rb-Sr). It was ejected from the surface of Mars ~ 11 million years ago.
Because it has a different noble gas assemblage to that of the Martian atmosphere, these compositions are thought to be a mantle signature.
This description is based on the work of NASA scientist Charles Meyer - compiler of The Mars Meteorite Compendium.
About this collection
This collection of meteorites includes Shergottites, Nakhlites and Chassignites (or SNC meteorites) which originate from the surface of the planet Mars.
They carry unique signals of the surface of the planet that allows scientists to study the composition and age of Martian rocks. The collection includes a sample of the famous ALH84001 meteorite, evidence from which was used in 1996 to begin the debate of 'life on Mars?'. 
Sample details
Accessory minerals
pyroxene
alkali feldspar
plagioclase
feldspar
biotite
kaersutite
chlorapatite
marcasite
pentlandite
troilite
ilmenite
rutile
baddeleyite
wadsleyite
We would like to thank the following for the use of this sample: